iTeacher, iStudent and iParent Apps Redesign Announced
iSAMS announced today the launch of the new and improved iTeacher, iParent and iStudent apps.
Originally released in 2015, the iSAMS suite of multilingual apps supports one of the companies key missions to increase the accessibility of important school information for students and parents – as well as saving teachers vital time by providing an additional channel through which they can communicate with other members of the school community, all whilst on the move.
Since iSAMS apps' initial release, technology has progressed and the requirements of schools have evolved, and the redesign of these apps hope to address these changes, continuing to ensure that schools get the most out of their systems.
Adopting the new iOS 13 and Android Material design and style the iSAMS apps now look slicker than ever, with a splash screen loading animation and the necessity of font-based icons and images, to improve the quality and appearance as well as the apps' rendering.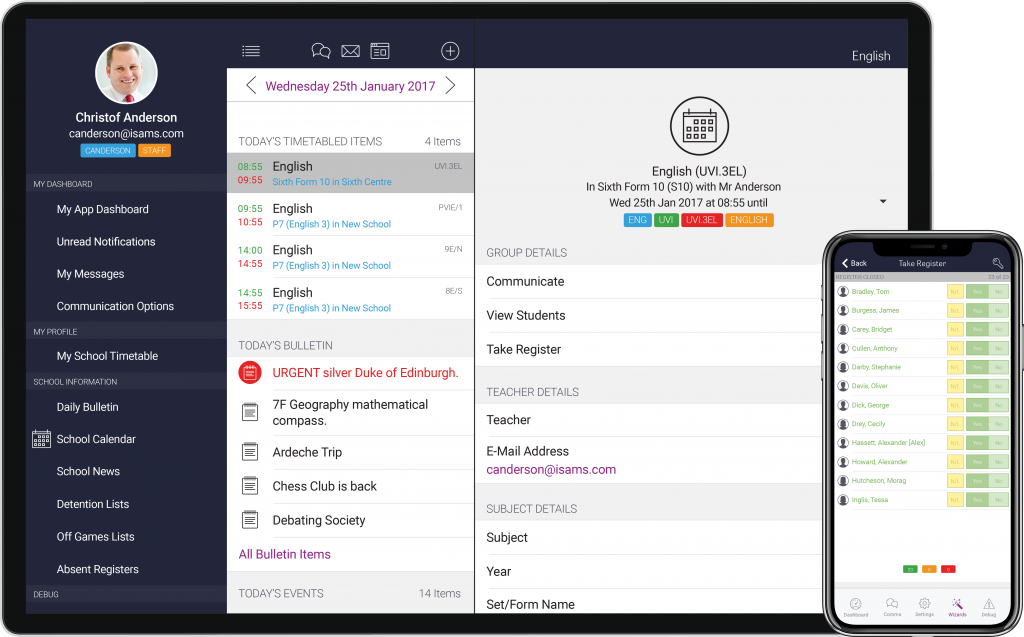 Schools using the apps will be able to retain some of the customisable options to ensure the apps fit in with the school's branding. These include the ability to add your own logo, background colour and hint colours.
Each of the iSAMS apps will now be fully supported on iOS 13 and Android 10 onwards (including Android 10), and should, therefore, operate even more smoothly on devices running this software version.
To further support the flawless running of the apps on iOS, images and legacy content has been removed, including underused component features (such as utterance and blur), to reduce the size of each app. Not only should this decrease installation and loading times, but it should also contribute towards a cleaner in-app experience.
To ensure schools are always making the most of the latest app features and functionality, new version checker has been introduced and jump to update option for iOS users – thus ensuring users will always be notified when a new update is available and making it even easier to install it.
To further improve the users' login experience, SSO functionality is now available across iSAMS system and apps, users can now access all products and features in a single place.
An additional jump feature in iOS enables users to easily switch between schools without having to log in multiple times, meaning that for MATs and groups of schools with multiple campuses, primary and secondary schools, it's now even easier to exchange key information through the iSAMS apps.
Sharing information is now even easier for iOS users with additional new features such as the updated social component. Supporting new iOS sharing options, this enables users to share information across other areas of their mobile device – including adding events and meetings to calendars.
A new "Help Centre" link is now visible on the left-hand side of each root window and in the account dialogue (or on the overflow options button in the top left for Android users). Here users will be able to get in touch with iSAMS dedicated Support Team who'll be available to answer any questions users may have about using the apps.
Push notifications are a fantastic way of enabling students, parents and teachers to receive key updates as soon as they happen and are one of the key features integrated into the iSAMS apps.
The iSAMS apps now have the capacity to handle push notifications from multiple schools. This means that if parents have students at different schools, or if teachers work across primary and secondary campuses, they will now be able to receive important updates from each school they need to by seamlessly jumping between schools through a single app.
To better support staff members in organising and maintaining a knowledge of the notifications sent out via the apps, added is a notification list and records to the 'Communications' tab. Through this, schools can view which communications have been sent out, when and via which channels, offering school admin staff greater clarity surrounding notifications' history.
To further support school staff when using the push notification feature, a new feature for test notification enables admin staff to fully trial how something is going to appear as a notification before sending it out via the app.
If you're interested in empowering teachers, students and parents by enabling them to access key school information on the move via their mobile devices, get in touch and find out how our suite of multilingual apps could help your school.