iUniversity Announces First Certification Exam Courses
iSAMS has announced the launch of a range of courses for the Admissions Manager module, now available on iUniversity. With 20 courses to choose from, iSAMS users will gain a deep understanding of how to harness the full potential of iSAMS to streamline and optimise their admissions processes.
iSAMS users will learn how to efficiently input their enquiries, manage visits and interviews, communicate with parents and guardians, and master the art of extracting data and interpreting the suite of reports. With a set of comprehensive courses, users will become an iSAMS Admissions expert in no time.
But that's not all – iSAMS also introduces its first-ever iUniversity Admissions Certification exam. With 45 multiple-choice questions covering all areas of the admissions module, users have the opportunity to demonstrate their iSAMS knowledge and best practices. Impress colleagues and gain recognition for expertise in the iSAMS admissions software.
At the end of the course and after successfully completing the exam, you will receive a certificate like this: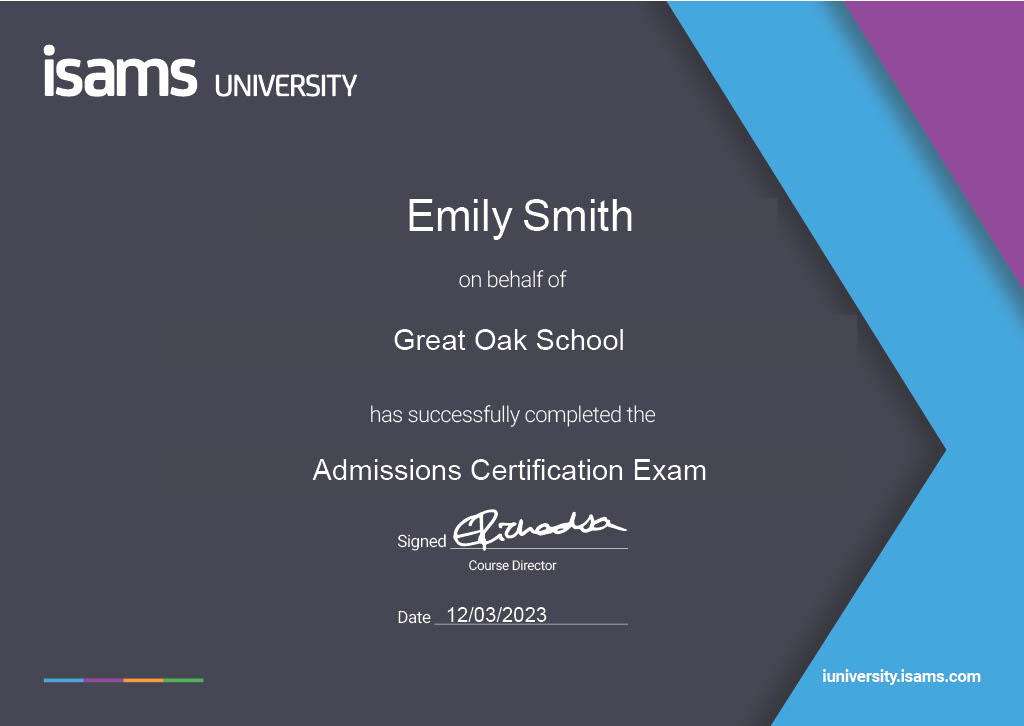 iSAMS is offering the Welcome to Admissions course to all schools completely free of charge. Simply sign into iUniversity using your identity portal credentials and start your journey to admissions excellence today.
To explore the full list of admissions courses iSAMS users will need an iUniversity subscription. This will also allow you to access the full catalogue of iSAMS courses and the Certification Exam.
To learn more about the subscription options visit the iUniversity Pricing page.