From Commerce to Education: Why Finance Systems Should Give Schools the Best of Both
The advantages of bridging the gap between specialist school accounting and best-of-breed enterprise software.
Finding an accounting system that's right for your school without disrupting your internal procedures can present a significant challenge. But, as your financial processes and budgeting are the backbone of your school ecosystem, it's one that's worth spending the time thinking about.
This becomes increasingly important as we see the Education sector navigate another period of political and economic uncertainty, which will undoubtedly impact your school's budgets and financial strategy.
For a number of years, the Business sphere has thrived with the support of powerful accounting and financial management platforms that have been tried, tested and developed over time – so we asked why schools should have to miss out on these highly intuitive and sophisticated functionalities, just because elements such as fee billing are slightly more complex than in the commercial world?
That's why we've developed an innovative standalone accounting platform that's modelled on the best the business world has to offer but adapted to ensure it meets each of your school's specific needs. In doing so, we're making sure our schools benefit from the best financial software the commercial and education sectors have to offer.
Quick and Effective Fee Billing
Where many commercially orientated finance packages are lacking is in the fee billing element that's critical to many Independent and International schools and school groups. This is because it's simply not applicable in a business environment that's centred on products and services being sold to customers.
In your schools, however, the focal point is your students. As a school, you provide a service to your students which is paid for by their parents or legal guardians – and sometimes this fee is split between multiple individuals who contribute towards a child's education.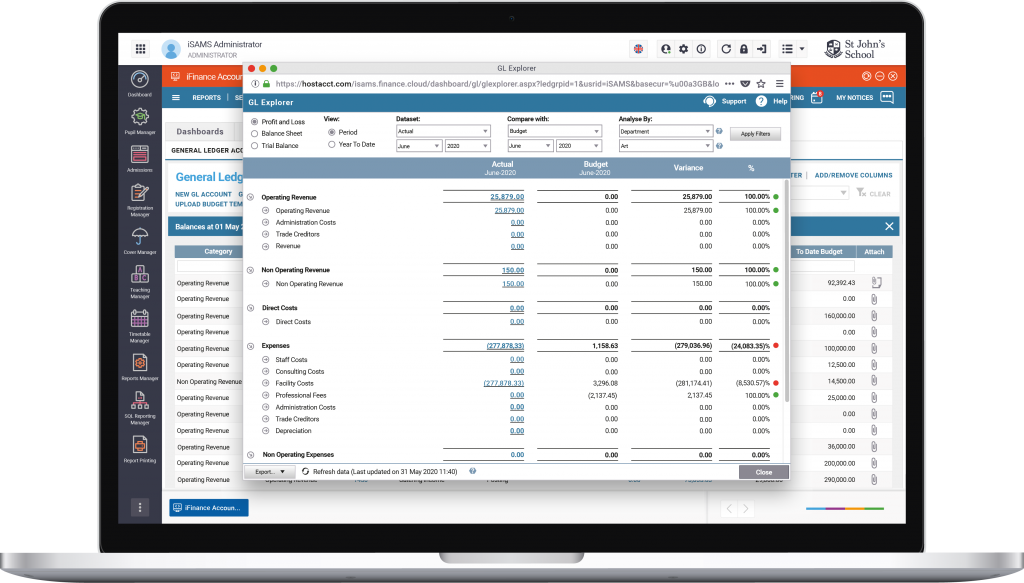 The fee billing element is further complicated by subsidies and scholarship discounts, which may be applied to these fees under specialist circumstances. Although, just because these commercial systems don't account for students in their transactional features, it doesn't mean that you shouldn't benefit from some of the enhanced functionalities businesses enjoy from their financial packages.
So, without sacrificing any of the benefits of enterprise-level financing, we've developed a comprehensive fee billing feature in iFinance that enables your Bursary to generate bills and add charges in several different ways for specific applicants, current students and alumni – thus providing you with the greater billing flexibility you need.
Efficiently Manage and Approve Invoices
The multifaceted nature of fee billing, alongside the further invoicing requirements your school has, also makes it easy for Finance teams to become inundated with paperwork, leading to ambiguous paper trails that are hard to manage and keep track of.
Where business software thrives is in its offering of digitised full workflow and purchase order approval, storing key budget holder information and automating the approval process without approvers needing to access the backend of the system. Adapting this within the context of a school body, accounting for appropriate approvers and fee billing details means this is now more intuitive than ever for school Finance teams and Bursaries.
Not only this but document management features, which house Purchase invoice/Sales invoice documents on the Sales and Purchase Ledger as well as pushing them into the nominal ledger, are designed to save you analysis time and prevent auditors from asking for physical copies of invoices.
Using business software to help streamline your workflow approval and invoicing processes in this way enables you to focus on more important areas of finance, such as managing and monitoring your budgets.
Bespoke and Sophisticated Reporting
Something else that both corporate entities and schools have in common is the importance of financial reporting to help inform future budgeting and decision-making. So it makes sense to build on the already solid foundations of the business sector to empower your school to build and share bespoke reports with key stakeholders.
Using the flexible real-time reporting and interactive dashboards available in sophisticated enterprise software, we have developed over 250 in-built, customisable reports and dashboards that are relevant and ready for your school's Finance teams to populate with ease.
Not only this, but you can also create Budget Holders, Management and Governor's packs so essential decision-makers across the school community can access the relevant reports for them at the touch of a button.
24/7 Access, Wherever You Are
When the iSAMS school Management Information System (MIS) was built, it was based on the fundamental belief that all essential school information should be accessible by relevant members of the school community whenever they need it and regardless of where they are in the world.
Our iFinance platform is no different.
A true cloud-based solution, iFinance offers billing and accounting functions that can be accessed round the clock by your designated members of staff, without them having to be onsite. This not only facilitates greater flexibility for staff, allowing key personnel to work from home should they require it, but auditors can also access a read-only version of your accounts, reports and documents without being onsite.
In addition, an online portal modelled on top-of-the-range business finance platforms allows parents to view their invoice history and statements in one secure location, giving them clarity and further alleviating staff time.
Through each of these fundamental areas, it's clear that building on and adapting the trusted foundations of the powerful accounting software available at the commercial level can be hugely beneficial in saving your school's Finance team time, supporting them in streamlining their financial processes and taking their budgeting and asset management to the next level.
Our iFinance software brings your academic, wellbeing and administrative data together with a powerful accounting and finance platform, seamlessly integrating with iSAMS' school management information system (MIS) to maximise financial efficiency.
We'll be at the ISBA conference in Manchester from 21st – 22nd May 2019 if you'd like to come and speak to us about enhancing your school's financial management.